Unless you've been living under a rock for the last few months, you've likely already heard of Goddess of Victory: NIKKE. The sci-fi anime RPG shooter has taken the world by storm, particularly across Japan, South Korea, and North America, thanks to its simple yet strategic gameplay, which can be played entirely in portrait mode with just one hand.
For those not already in the loop, Goddess of Victory: NIKKE sees you taking charge of a team of humanoids known as NIKKE to help save humanity from alien forces that have destroyed the overworld, forcing everyone underground. You'll collect a wide range of team members with different weapons and abilities, switching between them in fast-paced battles to destroy everything in your path.
While the gameplay itself keeps things simple, you'll need strategic thinking to ensure victory in each battle. You need a mix of weapons within your team to fend off the overwhelming numbers of enemies, and you'll have to consider which abilities best chain together to create devastating attacks on your foes.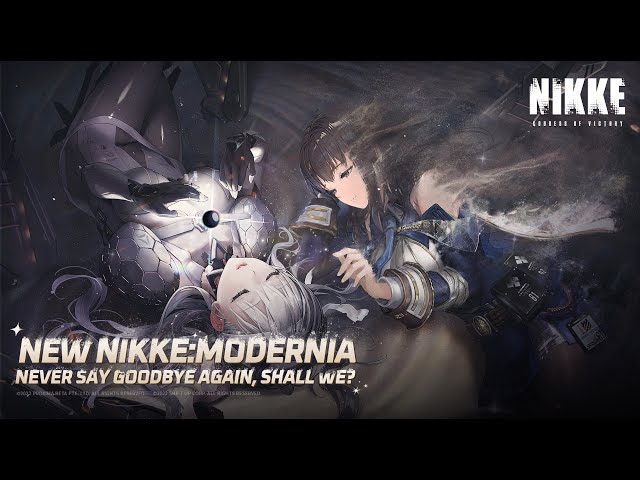 Not only is Goddess of Victory: NIKKE fun to play, it's lovely to look at too. The post-apocalyptic world is beautifully contrasted with the colourful cast of NIKKEs you'll collect, making for a wonderful visual landscape.
This combo has led to success around the world, with huge showings at Tokyo Game Show and G-STAR in South Korea, as well as top spots on the download charts in North America, South Korea, and Japan. And now, to celebrate the new year and overall success, the game is running a New Year's campaign with a new story event, new co-op activity, and a new NIKKE to recruit.
Brand New Year
The main draw of the New Year's celebration is the story event, Brand New Year. Not only will you get a chance to celebrate the new year with your favourite NIKKEs, but you'll also be sent on the trail of some stolen goods that are swiped right from under your noses at the party you're attending.
At the end of the trail, you'll find a brand new NIKKE called Modernia. Or, rather, a returning NIKKE in a new form. See, Modernia is actually Marian, a character you meet at the very start of Goddess of Victory: NIKKE, who is corrupted by the Heretics and seemingly dies at the end of your first set of missions. However, reports of her death have been vastly overstated, and Marian is back – in a sense.
Modernia is Marian reborn, somewhat literally. Her mind has reverted back to a child-like state, so she's prone to temper tantrums and other silliness, but there are still remnants of the warmth and kindness that show up from time to time. For some reason, she remembers her own name and the word "commander". And if that's not enough, she also wields a machine gun, making her a great choice for your party if you need to cut down vast swathes of enemies.
Coordinated Operation
That's not all, however. You'll also get a chance to take part in a limited-time event with up to four other players in the Coordinated Operation mode. This will see your squad facing off against the enormous boss known as LandEater, working together to take this deadly enemy down. You can either team up with friends or take on the challenge with random matchmaking to fill out your squad – whichever you choose, be prepared for a serious fight. You might also find some helpful rewards when you log in, so be sure to pick those up as part of the celebrations.
As an added bonus to celebrate the New Year, Goddess of Victory: NIKKE producer Yoo Hyung Suk is also thanking commanders with a handy reward. Across the New Year event, you can get up to 15 free draws from log-in rewards and New Year Rewards from the developers in-game, giving you a boost to start 2023 on the right foot.
Whether you've not downloaded Goddess of Victory: NIKKE before, or you're a regular player who hasn't checked in recently, now's a perfect time to jump into the game. The New Year's event will be running until January 11, so you've not got much time to dive in and start working on the story content.
Download Goddess of Victory: NIKKE today and start building your squad!